Ainsley Wilson
When you get ready to talk to an avid biker, you half-expect to hear him say how deeply in love he is with his beauty-on-two-wheels, that being on the road is his definition of freedom and that feeling the wind on his face is the best feeling ever. Sorry my dear readers, that's not our man. Let's put aside those cliches for a while and make way for a real biker.
"Real biking is about knowing your machine and knowing your roads," says Ainsley Wilson, the person whose face came to mind the moment I read about The Castrol Power 1 Blogging contest (Castrol's effort to 'define the Indian Biker').

Everybody who knows Ainsley, knows that he's this jolly guy who can crack a joke at the oddest hour of the day. Talk to him about biking and you will learn that it is not about wearing expensive gear and zipping through the town or ripping down a highway but about being aware of the risks on the road and being mentally prepared to deal with the unforeseen and untoward. That's how serious he is about biking.
Ainsley's biking record is not measured by the kilometers he has covered but by the routes he has taken, the places he has seen, his ability to conform to the conditions that a trip may throw his way. Ask him what biking means to him and he will say, "It is about exploring places and doing it on a machine I love." The machine of his choice is almost always a two-wheeler branded Yezdi. If it's a long ride that has been charted out he would be on his Yezdi Road King, Yezdi 350 or Yezdi Monarch. "These are powerful bikes with good tyres and great lights and better suspension," he explains. The others are more or less showpieces you can take around the city or for short trips, says he, talking about the 10 other bikes that adorn his garage. Between Ainsley and his brother Gavin, there are 13 bikes that they call their own.
Today the Wilson brothers are active members of the Mysore Tuskers (a biking group that older brother Gavin took the initiative of putting together), regulars at the Southern Raid (a coming together of the Yezdi - Jawa crowd of South India, and bike restoration enthusiasts. Yes, restoration even.
Ainsley tells me that he does not believe in modifying his favourite machines. The idea is to restore an old vehicle and make it like the 'original' with authentic parts even if it means he has to undertake a tiresome hunt or shell out some extra cash. "Everything has to be nothing-but-the-original right down to every bolt," he emphasises. He's been into restorations since 1998. As a kid he used to watch his father repair his bikes and soon turned into daddy's little helper and dealt with parts and grease and all. That was how he picked up this interest in restoration, he believes.
With his dad working at a motorcycle factory, there was at least one bike at home all the time, Ainsley recalls. So evenings meant trying out the motored two wheelers and picking up tips and tricks from his father. After years of owning a bicycle, it was a dream come true when he got to own his own motorbike. Since then, there has been no looking back. He's checked out several places around hometown and probably lost count of the Bangalore-Mysore rides he has had. His first long trip was a ride to Coorg that started at five in the morning, covering almost all of Kodagu and getting back to Mysore a couple of hours before midnight, he remembers. That was 10 years ago. This Mysorean has under his belt, trips to Mangalore, Kodaikanal, Wayanad, Ooty, Kozhikode, Hassan and rides on the Andhra coast to name just a few. I asked him which was his best trip ever and he couldn't pick out one, "They were all equally fun," he tells. However like most two-wheeler enthusiasts out there, he prefers navigating mountain roads and riding through forests for the sheer thrill of it. "The longer the ghat section, the better," he swears.
Riding in the night, having to use flashlights in cases of headlight failures, setting things right under street lights, brushes with wild animals... he's been there, done all that. This seasoned Indian biker says he firmly believes that real biking goes beyond just riding to being prepared for breakdowns, being able to do basic repairs, riding responsibly and knowing your route, yet being ready to take on the uncertain.
Ainsley (extreme right) and his brother (centre) with some bikes from their collection
Also check out Castrol biking on fb
June 6th, 2012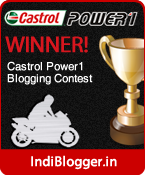 http://www.indiblogger.in/topic.php?topic=54&sort=popular
Thank you Castrol, Indiblogger for this opportunity.
Most of all, Thank you Ainsley for letting me tell your story. Thank you so much. That Power 1 biking jacket is for you. I hope it'll be of some use to you during your many biking expeditions. Keep biking. Keep rocking.
- d. Nambiar